See the latest pics from the 2008 Tailgating Stop in Gainesville!
______________________________________
As the leaves start to change up north, The Village Idiots made there way down to "The Swamp" to kick off the Fall 2007 Tailgating season. The Southern Hospitality could not have been more warm! We would like to thank our hosts, Devin, Matt, Erin and Kim, for providing us a place to rest our heads and keep our beers cold. Also, special thanks to the Gainesville Police Department for taking it easy on a few of the V.I. who had a little trouble picking up the finer points of the local lawbooks. It was GOOD TO BE A FLORIDA GATOR on this weekend!!! The Orange and Blue took down their SEC rival Alabama 28-13 (As predicted by the V.I. Mystery Reporter, of course) I'm sure you will see Gainesville solidify a regular spot on the V.I. Tailgating Tour for seasons to come!
Click on Thumbnails for full pics... also scroll down for more...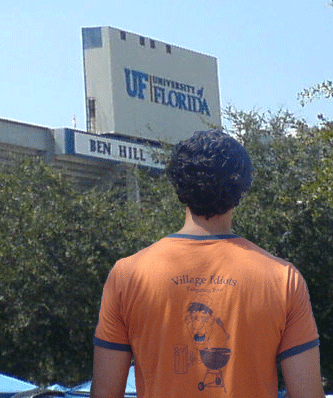 You can send questions and requests about Tailgating and all of the Village Idiots Events to...
Events@VillageIdiotSports.com