Village Idiots Football is currently on hiatus...
stay tuned for a possible tournament appearance!
___________________________________________
The Village Idiots had another tough Fall Season in 2008 and finished 3-5 without making the Playoffs... Check Full Schedule for the Season Here!
___________________________
It was a hot and sunny day at the Holly Patterson Fields for the Spring 2008 Nassau County LIFFL Finals. The Village Idiots faced off against the Main Event Spartans. Both teams marched up and down the field during the first half, with each team scoring twice to knot the things up 14-14 at halftime. The 90 degree temperatures combined with tightening defenses slowed the pace in the second session. The score eventually reached 21-21 with each team making big defensive stands in the final minutes. The Spartans made one last march with time ticking down, and with 9 seconds left, kicked a 25 yd field goal to take the Championship 24-21.
Check out the full schedule and results HERE - See Pics from the Spring '08 Season HERE

After a 7-1 regular season, Village Idiots Football cruised to a first round playoff win 32-6 over the Nassau Storm... then took down the RC Dugans Blazers 14-7 in Round 2... They followed with a dramatic come from behind victory against the Hustlers in the Semifinals. After falling behind 14-0, the VI Defense tightened up and BStan was unstoppable, taking the Idiots downfield for 3 second-half scores and a 28-20 win!
_______________________________________________
_________________________
After a great run, Team Takeover ends the Village Idiots' Spring, 13-6!
Check out some of the photos from the Spring '07 Season... click HERE!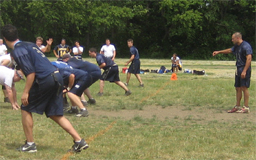 (see full schedule and game recaps by clicking here)
The V.I. were joined this spring by Green Bay Home Improvement! Check the Roster!
Directions to the fields are here
__________
The Village Idiots entered the Long Island Flag Football League in the Spring of 2001 and have had a great deal of regular season success throughout the years although have yet to claim a playoff title.
Co-Captains JDubs and BStan

Fall '06 Recap

The Village Idiots fought tough against the undefeated Tornados, but came up short on a last second drive and their season ended with a 20-18 loss to the #1 team on L.I.

The close game was a great indication that Village Idiot Football should be back in contention this spring!
In preparation, they put a squad together with a lot of big V.I. names for the July 22nd/23rd summer tourney... See how they did and check the tournament coverage... Click Here!
Click Here to see who represented the V.I. this fall!
Stay tuned for details!