We are polling the V.I. family to collect the stories, pictures, and videos that make the Village Idiot Lifestyle appealing to so many... You'll find the results right here!
In the meantime, get to know some of the faces in the Village Idiots Family...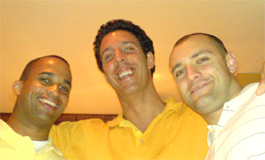 V.I. Co-founders Fred Fribble and DKnip, and Original V.I. BStan
Probably the 3 most heralded on-field performers in Village Idiots history... Co-captains of the Champion V.I. Hoops Squad, DKnip (Spring '01) and Fribble (Fall '01) also led the V.I. Football Team in touchdowns in its first two seasons in the L.I.F.F.L... BStan led the Hoops Squad in 3pt baskets in their inaugural season and has a near perfect record as the Village Idiots Quarterback.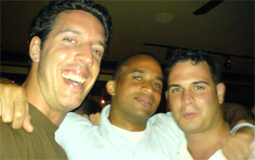 The Co-founders with the leader of the V.I. Next Generation, TCasal
Fribble and DKnip are also the foundation of Village Idiots Hoop-it-Up as they enter competitions all over the Northeast, while Casal has quickly emerged as the most prolific scorer on the V.I. Basketball team. He is currently chasing down DKnip's all-time scoring record in the Summer League. A standout on the gridiron and the Long Island bar scene as well, Casal is poised to take the Village Idiot Lifestyle to the next level.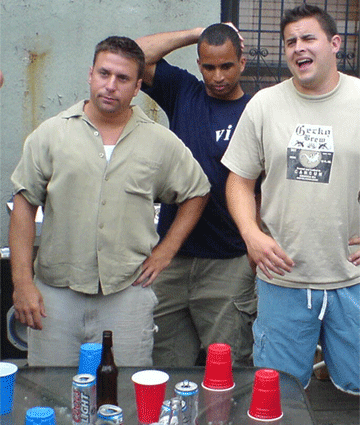 JDubs, Fribs, and GC taking part in some outdoor summer Flip Cup
JDubs has been the cornerstone of the V.I. Football franchise, taking on the GM role in 2005. He orchestrated the return of V.I. Football on 2006, overcoming the injuries and old-age of many of the original Idiot Gridiron Greats. GC is one of those greats... having been a key ironman on the offensive and defensive line, he has finally succumb to chronic knee problems and has likely seen his last days on the football field, but has been reborn on the softball diamond! His enthusiasm and Village Idiot Pride will still serve as a motivator for all in the V.I. family.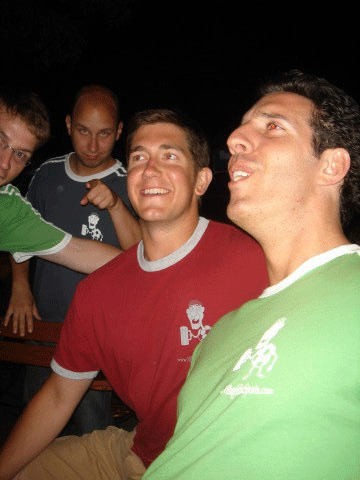 The Ox, JonO, The Chairman, and DKnip on the V.I. Tailgating Tour at the World Cup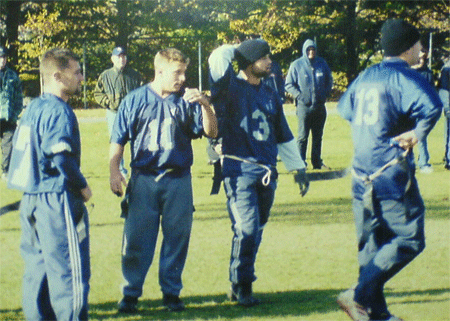 In a shot from the 1st V.I. Football Season, TStan, JDubs, MStan and BStan warm up
Learn more about the V.I. by following the links below: